Yellow Columns Design Cotton Scarf - Asha Handicrafts
Yellow Columns Design Cotton Scarf - Asha Handicrafts
Product Code:
IX5065-564036
Reward Points:
50
Availability:
In Stock
and paste Want to be sure you're paying the lowest price?

We are making everything possible to provide you the best products on the lowest prices possible. Due to the higher number of products in our store we think that is possible some of the prices on our products to not be accurate.

If you find one of our products with lower price than ours, please use this form. We will compare the prices and will try to offer you the product on the same price!
Here's how it works:

1. Found a cheaper price?
2. Ask us for a price match - Just fill out the form and we'll check the details.
3. If you are correct, we will try to offer you the product for the same price and you can enjoy your stay knowing you got the lowest price.
Please fill in the form below:
* Required fields

Complete your ensemble with a bit of color with a handmade 20 by 70 inch cotton scarf made in India by local artisans. Made of breathable cotton for all-weather wear.
Meet the Artisans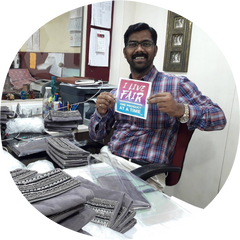 India has always been renowned for its rich silk fabrics, woodcarvings and carpets. However, many of these products are produced in conditions of abject poverty for the craftsmen, exploited by large producers and moneylenders. Asha Handicrafts is a not-for-profit making body, based in Mumbai, India, working to promote Fair Trade and Fair Trade practices. As a member organisation of theThe World Fair Trade Organization , Asha Handicrafts ensures that the benefits of handicraft production reach the craftspeople themselves.